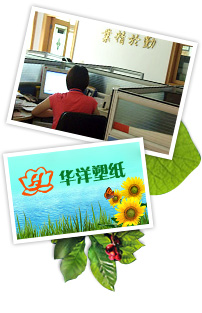 Baoding HuaYang plastic paper packaging Co., Ltd was founded in 1995. It is a professional packaging and printing company that specializes in manufacturing, researching and developing various packaging materials. Throughout the recent two decades, there are more than 5 million Chinese Yuan is invested into the company for further development. HuaYang paper and plastic packaging Co., Ltd. is located in Bai Yang Dian area, Xiong Xian area, HeBei province, China, covers an area of 20,000 square meters, employees 100 people.
We can make different types of packaging products as per customers' requirements. We supplies a range of products including outsourced food packaging, disposable supplies, and cleaning and safety products to food processors, supermarkets, retailers, convenience stores and other users. such as paper products, professional production: Kraft paper bags, square bottom paper bag and so on.
HuaYang packaging Co., Ltd has a growing staff team full of enthusiasm and vitality. Aiming at making high quality products, as well as meet all clients' demands, the company directly imported packaging materials from overseas, such as wrapping base paper, bleached Kraft paper from japan and so on. On top of that, most of our equipment was purchased from the top brand packaging machine company in the world. Such as the U.S.A WEBER flat and square bag machines, ECFLEX printing machine and so on.
Every year, the company constantly exported various types of products to different countries, like, England, japan, Australia and so on. The company set up the quality assurance system of ISO9001, Food safety system of HACCP, plastic packaging quality safety system on august 2007 and QS.
By the end of 2008, the company was the second company whom gained the certification of QS system in the field of paper bag, card boxes m and waxed wrapping paper within HeBei province in china.
HuaYang packaging Co., Ltd always keeps sustainable development of both products and markets. In order to meet different target groups of customers' demanding, the company produces variety types of products ,which relate to food packaging, pharmaceutical packaging, electronic and digital packaging. However, food grade packaging has always been the main products in HuaYang. The company is very proud to have long-term clients such as Dico's, MCK, and HKD and so on. In order to meet all different Brand clients' satisfaction, the company needs not only the opportunity and luck, but also courage and sole advantage to help it to develop into a further step.
Throughout its history, the company has maintained a strong commitment to productivity, delivering both quality service and competitive pricing. As it looks to the future, Bunzl Distribution is focused on increasing productivity, enhancing customer service and exploring new business opportunities. The company's operation philosophy is "The Best Quality, Good Credit, Good Service and Competitive Rate". We look forward to cooperating with you in the coming future.